Dedman School receives $2 million Marriott Foundation gift for hospitality career center
---
Dedman School receives $2 million Marriott Foundation gift for hospitality career center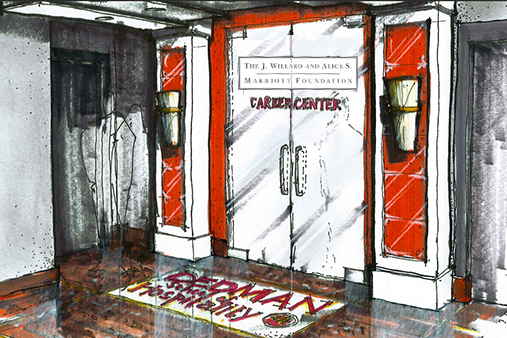 Florida State University's Dedman School of Hospitality announces a gift from The J. Willard and Alice S. Marriott Foundation to establish the Marriott Career Center.
The $2 million gift provides for an endowed fund supporting the center's ongoing operations, as well as $250,000 for renovations in the development of its facilities.
The hospitality-focused career center will provide valuable support to the school's students. It will be hub for online and in-person recruiting, workshops, and branded events aimed at connecting industry professionals with Dedman's world-class students.
The renovated space in Dedman's home at University Center B will offer students the opportunity to polish interview skills, fine tune resumes and cover letters, discuss internship and career opportunities, and network with industry leaders, recruiters and prominent alumni.
Established in 1965, The J. Willard and Alice S. Marriott Foundation is dedicated to supporting exceptional nonprofit organizations that provide civic and human services, foster educational achievement, expand opportunities for youth and adults, develop the next generation of hospitality leaders and lead innovation in health and medicine.
---
ABOUT
UNDERGRADUATE PROGRAM
FUTURE STUDENTS
CURRENT STUDENTS
ALUMNI & FRIENDS
INDUSTRY & RECRUITERS